Thursday, February 20, 6:30pm
and
Thursday, March 13, 6:30pm
at the Roslindale Library
Escape the winter cold with our first in a series of slide presentations on gardens nearby and farther away. Beautiful views of gardens will be presented by Roslindale Green & Clean board members. Hear about our upcoming gardening and tree planting projects. Light refreshments. Free.
In support of Roslindale Green & Clean's (RG&C) mission to make Roslindale a greener community, we're offering you the chance to get a free tree in return for your help and commitment to plant it and care for it in the years to come. Our goal is to plant trees in Roslindale that will be well taken care of and live many years into the future. You don't need any prior gardening experience, just a willingness to commit to watering the tree regularly, particularly during its first season in the ground.
We're looking for homeowners, renters, churches, schools, businesses and others who want to plant a tree on their property in a publicly visible place that has the space and sight lines to support a tree intended both to bring pleasure and shade to its owner and to let passers-by enjoy its presence.
Here's what you need to be eligible to get a free tree from RG&C:
Interest in having a tree in your front yard or other location that's publicly visible.
A minimum of 36 square feet (6′ by 6′ square) of ground space.
Ability to water weekly for the first spring and summer and as needed after that.
A commitment to the care and maintenance of the tree over its life of many years.
Please note that RG&C will not be planting sidewalk trees – the City of Boston handles all sidewalk trees.
If you are willing and able to commit to being a responsible tree owner and RG&C approves your application for a tree, RG&C will:
Provide you with an appropriate tree for your site.
Assist you with planting your tree.
Teach you how to care for and water your tree.
Because we have a limited number of trees to offer at this time, RG&C will select tree sites based on its assessment of which applications will have the greatest benefit to Roslindale as a whole.
Roslindale Green & Clean's "Instant Make-Over" of Roslindale Village Site:
Trees and Shrubs Installed with Beautify Boston Grant
On Saturday May 5, Roslindale Green & Clean volunteers and "The Green Dragons" transformed a public space in Roslindale Village in a day of community gardening. Participants removed half dead trees, rangy roses, and weedy grass and replaced them with drought tolerant and attractive trees and low growing shrubs. Mulch was installed to hold soil in place, control weeds and help retain moisture.
Roslindale Green & Clean (RG&C) received a $5,000 Beautify Boston grant from the City of Boston's Parks and Recreation Department to replant this highly visible green space adjacent to the lower parking lot at the MBTA Roslindale Village Commuter Rail Station. The plants were chosen to provide beautiful fall color as well as spring and summer beauty. The slope is located directly across the street from another RG&C green space, Savage mini-park, located in front of Joanne Rossman Designs and the Emerald Society.
In a unique partnership, RG&C hired "The Green Dragons", a group of martial arts students from Yang's Martial Arts Studio, who are raising funds for a trip to China and are making a documentary of their adventure. These energetic young men provided the muscle and enthusiasm to dig the holes, plant dozens of shrubs and 4 ginko trees, and spread 10 yards of mulch after the plantings were installed.
Other project partners included the City of Boston Parks & Recreation Department, and the MBTA. Centre Cuts, located across from the planting site, provided access to their outdoor water spigot which was critical for getting water to the site to irrigate the new plantings. RG&C volunteers who also assisted in the planting day included Gerard O'Connor, Stephen Smith, Joan Linden, Nancy Leask, Brooke Nash, and Maggie Redfern, Sue Pfieffer and Kit Ganshaw.
Landscape architect Nancy Leask, who did the design and plans for the project, said, "Roslindale Green & Clean is proud of this new project and the beautification it brings to this highly visible spot in Roslindale Village.
Ongoing watering this season will help the plants get through their critical first year of life. Residents who are interested in helping to keep the new tree and plants watered this season should contact Roslindale Green & Clean at rgc.treeplanting@gmail.com
Roslindale Green & Clean is a non-profit, all volunteer organization dedicated to greening Roslindale's public spaces. RGC also hosts the bi-annual Roslindale Garden Tour and does neighborhood tree plantings.
We are grateful for coverage of this "instant make-over" by Wicked Local Roslindale and by the Jamaica Plain Gazette.
11 AM to 4 PM
Tickets: $20

Purchase Roslindale Garden Tour tickets in advance through PayPal.
(Be sure to print out your Paypal receipt to exchange for your ticket on tour day, June 23, starting at 9:00 am at the Garden Tour tent in Adams Park.)
Tickets also available in person at:
Roslindale Farmers' Market: June 2, 9, 16, Adams Park, Roslindale.
Tickets available the day of the tour at the Roslindale Farmers' Market.
(Willing to volunteer to help with the tour? Sign up at

)
Please visit the Roslindale Garden Tour page for additional information.
Roslindale Green & Clean would like to thank the 2012 Garden Tour sponsors for their generosity.
Primary Sponsor:
Christie Dustman & Company Inc., Garden Design & Maintenance
Other Generous Supporters:
Jon Goodhue Design, Architectural Services
Sacred Heart Church, Roslindale
Birch St. House and Garden
Joanne Rossman
Linda Burnett, Realtor
Roche Bros.
Sophia's Grotto
The Cooperative Bank
Allandale Farm
Whole Foods Market Dedham
Thanks to Mahoney's Garden Centers and a host of volunteers, Roslindale Green & Clean is helping to increase the tree canopy in Roslindale.
On Saturday, October 22nd, Roslindale Green & Clean planted eight trees in front or side yards in Roslindale, free of charge to the recipients. Street trees generally have short lives because of a combination of road salt, crowded roots, girdling, lack of water, soil compaction due to foot traffic, and other harsh city conditions. Roslindale Green & Clean funded the planting of trees within sight of the public but on private properties where owners would agree to water and care for them. Trees were purchased at a substantial discount from Mahoney's Garden Centers, who generously offered to deliver the trees to each of the eight locations as well as to provide a bag of compost and mulch for each site.
Trees planted include serviceberry (Amelanchier canadensis), pin oak (Quercus palustrus), tree lilac (Syringa reticulata 'Ivory Silk'), stewartia (Sewartia pseudocamellia), hawthorn (Crataegus viridis), and katsura (Cercidiphyllum japonicum). Funds from the proceeds of the 2010 Roslindale Garden Tour were used to purchase and plant the trees.
Volunteers Kit Ganshaw and Sue Pfeiffer from the staff at Arnold Arboretum donated their planting labor and expertise to the task. The effort was organized by Maggie Redfern, Treasurer of Roslindale Green & Clean. Other RG&C volunteers included Ricardo Austrich, Jeff Chasin, Nancy Leask, Sydney Balise, Jon Goodhue, Sheryl White, and Diane Carter Duggan.
Roslindale Green & Clean is now accepting applications for spring 2012 tree plantings. If you would be willing to water and care for a tree, and you have a yard that is in public view, you may be eligible to have us plant a tree free of charge. Click here for an application.
Details coming soon.
Press Release from the American Horticultural Society:

Alexandria, VA (March 12, 2010). The American Horticultural Society (AHS) is pleased to announce that the organization Roslindale Green & Clean (RG&C) has been named the 2010 recipient of the Society's Urban Beautification Award. The award is one of 12 Great American Gardeners Awards that the Society presents annually to individuals, organizations, and businesses that represent the best in American gardening. Each of the recipients has contributed significantly to fields such as scientific research, garden communication, landscape design, youth gardening, teaching, and conservation.
The Urban Beautification Award is given to an individual, institution, or company for significant contributions to urban horticulture and the beautification of American cities.
An all-volunteer community organization formed in 2004 in Roslindale, a neighborhood of Boston, Massachusetts, RG&C was developed by a group of residents whose goal was to create green, visible, attractive, and pleasant oases within the town's busy urban center.
With the help of the City of Boston and other neighborhood groups, six projects have been completed and more are planned as the organization grows. A small but dedicated group of volunteers maintains the sites throughout the growing season.
Through special events like the Green Garden Exchange — an educational program that offers participants practical information on plant selection and gardening techniques they can apply in their own gardens — and a planned 2010 Roslindale Garden Tour, RG&C continues to raise community interest and participation in enhancing Roslindale's public spaces.
On Thursday, June 10, 2010, the American Horticultural Society will honor Roslindale Green & Clean and the other 2010 award recipients during the Great American Gardeners Awards Ceremony and Banquet, held at the Society's headquarters at River Farm in Alexandria, Virginia.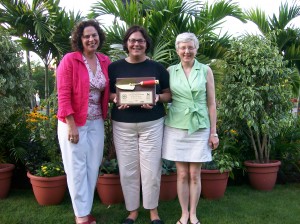 Alexander the Great Park tied for first in the Community Gardens Category of Mayor Menino's 2008 Citywide Garden Contest. The park was featured along with other contest winners in the Roslindale & West Roxbury Bulletin. Photos of the park and the awards ceremony can be seen at the City of Boston's Garden Contest site.
The plantings at the Roslindale Branch Library won Third Place in the Community Gardens Category of Mayor Menino's 2006 Citywide Garden Contest. The Library plantings were RG&C's first project.